What's Super Yosakoi Festival
---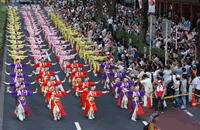 What is The Harajuku Omotesando Genki-matsuri Festival -- Super Yosakoi?
What is The Harajuku Omotesando Genki-matsuri Festival -- Super Yosakoi? Since 2001, the local shopping avenue association "Harajuku Omotesando Keyaki-kai" has organized this festival. It is held in last weekend of August for dedication festival of Meiji-Jingu, so as to keep tradition of Yosakoi festival in Kouchi prefecture.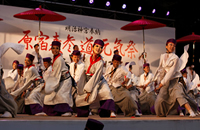 Performance & Event summary
"Yosakoi Naruko dance" exhibitions and festivals introduction are held at 3stages/ 3 street. Approximately 100 teams gather at Omotesando every year from all over Japan. They perform individual enthusiastic "Yosakoi Naruko Dance". The "Super Yosakoi" celebrates 19th festival in this year. It now establishes the status as one of the biggest Yosakoi events.
What's Yosakoi Festival
Etymology
Yosakoi means "Please come at night" in Tosa(Kochi Prefecture) dialect.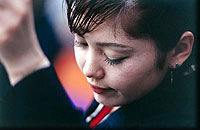 History
Yosakoi Festival was held in 1954 after the war depression by Kochi chamber of commerce and industry in order to recover economics and build up the local area. At the first time, 21 teams (750 participants) joined. Until the 30th festival, the participants grew up to 1,000 in number. In 1970, it was chosen one of the top 10 festivals in Japan by Osaka international exhibition. About 50 years have passed, and now Yosakoi prevails all over the Japan. Until now, 220 or more Yosakoi style festivals have been born.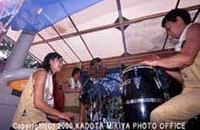 Music
Birthplace of Yosakoi, Kochi Yosakoi Festival allows you to add any arrangement if you use music "Yosakoi Naruko Odori" by Eisaku Takemasa. The "Yosakoi Naruko Odori" is incorporated with "Yosakoi-bushi", Yocchore (old children's song)", "Jinmamo (local song)", and Its composor (Mr. Takemasa) contributed the song with abandonment copyright of the song. Generally, using phrase of local folk song into part of Yosakoi song is mandatory of Yosakoi Style Festival; therefore, now many teams compose their original songs and play live band on Jikatasha. The style is managed from original Yosakoi-bushi to rock style, samba style and so on, which is the biggest reason why Yosakoi Festival is accepted by young generations and widely spread in Japan. It can be said that Mr. Takemasa contributed the popularity of Yosakoi.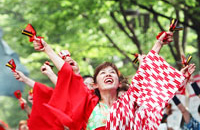 Naruko (musical instrument)
Naruko is an irreplaceable instrument for Yosakoi Festival. Originally, Naruko was a tool to scare birds such as sparrows hanging out at fields. When Yosakoi Festival was born in Kochi - prefecture, Awaodori was already famous for its style with bare hands. Yosakoi referred to it and also started to use instruments. The reason why Naruko was chosen for the instrument was because it was familiar with Kochi. Traditionally black and yellow sticks are settled on vermilion wooden body, but now the original form is arranged in terms of color, material, and shape to match each costume. Also, Yosakoi is getting familiarized by being introduced in P.E. classes at schools and so on.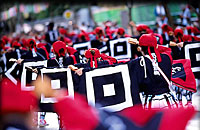 Costume
There is no regulation on color or design for costume. When Yosakoi was born, men and women enjoyed dancing with Yukata. But now dance has been changed, and variations have increased such as ethnic style, rock style, or old style. Therefore, many teams now create new costumes every year depending on the theme of the team, which add spice of each individuality.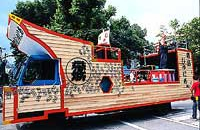 Jikatasya
Jikatasha was appeared at the 4th Yosakoi Festival in Kochi at the first time. Jikatasha is the leading truck of teams which represents the symbol of the teams. The driver's seat plays the role of the command of the team. The body of the truck is decorated with the team concept and career mobile live stage for sound machineries and band. It is now used as the moving device or illumination that entertain audience.